Meet the members of Cincinnati Animal CARE Humane Society working daily to support the lost and homeless pets of Hamilton County and beyond.
Carol Sanger
Board President
Carol is currently on the Board of Directors of the League for Animal Welfare. Founded in 1949, League for Animal Welfare is a privately funded, non-profit organization providing much-needed care for unwanted, lost and neglected cats and dogs in our community. As the oldest and one of the largest no-kill shelters in the area, the League serves the Greater Cincinnati area through initiatives to reduce the number of homeless animals and to help people better care for their pets.
She is also the former Board President for both the League for Animal Welfare and United Coalition for Animals, Chair/Director Emeritus of Pets in Need of Greater Cincinnati and Regional Coordinator for Westie Rescue Indiana. In her professional career, Carol served for 22 years as the Vice-President of Corporate Communications and External Affairs at Federated Department Store.
Carolyn Evans & Sanchez
Executive Director
Carolyn is a founding member of Clermont Animal CARE Humane Society (CACHS) and volunteers as the organization's Executive Director. It was Carolyn's vision to support the Best Friends Animal Society No Kill 2025 Initiative that led to the formation of CACHS in October 2017 and the decision to bid on the contract for the Clermont County animal shelter.
Carolyn's extensive collaborative work in the Cincinnati-area animal welfare community enabled her to pull together a strong coalition of like-minded individuals and organizations to work toward implementing proven lifesaving programs and the successful animal shelter bid. She is the founder and Board President of My Furry Valentine, host of Greater Cincinnati's largest animal adoption event celebrating more than 7,000 adoptions in 9 years; former Board President of United Coalition for Animals, Greater Cincinnati's first and only high-volume spay/neuter clinic for cats and dogs performing more than 132,500 surgeries to date; and former Board Secretary for HeARTsSpeak, an international non-profit organization that unites art and advocacy to increase the visibility of shelter animals.
Carolyn holds a B.S. in Management from Purdue University and an M.B.A. from The Ohio State University. She has a decade of experience as a management consultant. She's a proud graduate of the inaugural Best Friends' Animal Society Executive Leadership Program, the first lifesaving certification for animal services executive level leaders in the nation.
In addition to her charitable work, Carolyn's pet photography studio, phoDOGrapher, has been photographing pets & their people for nearly two decades. She lives in Mt. Adams with her husband, their two animal-loving boys, and 3 rescue dogs Abby, Capt. Jack, and Sanchez, a CACHS alum.
Carolyn Besl
Board Secretary
Cici is a Magistrate with the Warren County Common Pleas Court handling criminal felony arraignments and civil cases. Carolyn is also a founding member of the Warren County Drug Court Treatment Team, which provides alternatives to incarceration for substance users seeking change. Carolyn grew up with her sister and fellow board member, April Besl, on a 30-acre horse farm with wire hair fox terriers and standard poodles. An animal lover, Carolyn was a competitive equine eventer and would often be found trail riding with the family dogs by her side. Today, Carolyn lives in Hamilton Township and is on the hunt for her next canine best friend.
Meaghan Colville
Director of Lifesaving Programs
With 10 years experience in the animal services field, Meaghan began her career at spcaLA in Los Angeles. As a Humane Educator, she was part of a team that ran violence-prevention programs pairing youth from at-risk communities with adoptable shelter dogs in positive reinforcement dog training classes. The Humane Education department also included a court-ordered juvenile offender program, 8-week long summer camp, and a foster program for the pets of victims of domestic violence. Meaghan moved on to become Volunteer Manager at spcaLA, overseeing almost 300 volunteers and helped implement a new volunteer levels-based dog enrichment program.
In Cincinnati, Meaghan was the Surrender Prevention Specialist at SPCA Cincinnati. While there, she was a founding member of SAFE (Saving Animals from Eviction), and continued to work with the group when she became Shelter Director at Ohio Alleycat Resource (OAR). While at OAR, Meaghan's team strategically implemented best practices for lifesaving which resulted in the doubling of applications, adoption and rescue transfer numbers. She also led efforts to initiate a new, robust FeLV+ cat adoption program - the first of its kind in Cincinnati. Meaghan is excited to bring her experience and passion for animal sheltering to Clermont Animal CARE!
Meaghan holds both a B.S. and M.S. in Education, from The Ohio State University and Canisius College, respectively. She played varsity tennis at Ohio State and is a certified high-performance coach who has worked with nationally-ranked junior players from all over Ohio. Meaghan lives in Covington with 3 cats and 2 Golden Retrievers.
Amanda Taylor
Medical Director
Amanda has been a Registered Veterinary Technician (RVT) for 16 years and a Veterinary Technician Specialist in Emergency and Critical Care for 7 years. She has worked in a wide variety of veterinary hospitals throughout her career, primarily in the areas of emergency and critical care. Amanda currently works at MedVet and has been in the Emergency and Nursing Department for the past 11 years.
In the world of sheltering, Amanda has fostered for Clermont Animal CARE for the past two years and joined the CACHS team as Medical Director in 2018. She is a graduate of the Maddie's Fund Clinic Management Apprenticeship and loves the challenges of shelter medicine. Amanda often fosters special needs animals and challenging medical cases, including Rocko of "Bucket List" fame. Amanda lives in Clermont County with her husband, daughter, 3 dogs and a variety of other animals who need a place to call home.
Troy Taylor & Hooch
Chief Dog Warden
Chief Taylor recently moved from Grand Island, Nebraska, for the opportunity to lead the Animal Care & Control Department for Clermont County. He has more than 6 years of law enforcement experience, including Corrections Officer, Armed ICE Transport Officer, K-9 Unit Supervisor overseeing a team of 7 Patrol Officers, and most recently, he led the operations the Central Nebraska Humane Society Animal Control Department enforcing city, county, state and federal laws.
Chief Taylor has earned numerous certificates in his career including the Field Training Officer distinction. He is a Firefighter/EMT, and holds an Associates Degree in Criminal Justice.
Captain Brandon Corcoran
Dog Warden
Lieutenant Colt Allen
Dog Warden
Sergeant Dan Conners
Dog Warden
Ray Anderson
Media and Community Relations Manager
With 17 years of on-air experience in Cincinnati radio, it's possible you've seen Ray or have at least heard his voice. Most recently spending over a decade with Mix 94.9, Ray's love of animals frequently found its way onto the airwaves through charity work or stories about his own menagerie at home. In 2018, he launched the Pet of the Day program: each day, Mix 94.9 featured an adoptable animal from various shelters and rescues throughout the tri-state, in hopes of finding forever homes. In less than two years, the program adopted out over 500 dogs, cats, and even a few pigs!
Ray is a lifelong Cincinnatian, growing up in Colerain, just up the street from Cincinnati Animal CARE Humane Society, and a lifelong lover of animals, currently living with two dogs and three cats in his home in Pleasant Ridge. Ray is eager to use his very loud voice to amplify the mission of Compassion. Advocacy. Rescue. Education.
Carolyn Frias & McDreamy
Training and Enrichment Coordinator
Carolyn Frias recently moved from Southern California with her two dogs, Mason and Nelson, and joins our Team as our Training and Enrichment Coordinator after serving as our Dog Program Coordinator. Carolyn has 12 years of experience working with dogs in both shelters and home environments. She is a Certified Professional Dog Trainer (CPDT) and got her start while still in high school, when volunteering at spcaLA in Los Angeles.
During her time there, Carolyn became and integral part of the Behavior and Training Team that provided robust, daily enrichment for the shelter dogs and taught them behaviors that would help them succeed in new homes. In addition to working with shelter dogs, Carolyn also has experience working as a private in-home trainer and group class instructor.
Carolyn uses positive reinforcement training techniques. She believes that it is important to strengthen the human-animal bond by building trust, and using rewards as motivation rather than fear and pain. She also believes that shelter dogs are stressed enough and there is no need to add more stress by using dog training techniques and tools that punish behaviors. Carolyn attends lectures, training and conferences to stay current on new dog training and sheltering information.
We are excited about the possibilities for more shelter enrichment including mental stimulation, training, expansion of playgroups and more, to keep the dogs as happy as possible while in the shelter and prepare them to be successful in adoptive homes.
Cat Cameron & Yeti
Cat Program Manager
Cat transitioned into the animal welfare field in 2018 after spending 15 years in customer service, retail management and training. A lifelong animal rights advocate and pet parent, Cat felt it was time to pursue a career with more meaning. After working at a boarding facility and vet office, Cat found her calling as an Adoption Coordinator for Cincinnati's Ohio Alleycat Resource and Spay & Neuter Clinic. She successfully contributed to the updating of adoption policies and helped OAR nearly double adoptions in her first year!
Cat joined Clermont Animal CARE in 2019 as the Cat Program Manager. She has experience with cat behavior and socialization as well as policy writing, staff training, and logistics. She has attended training opportunities led by the Humane Society of the United States, Austin Pets Alive!, and Jackson Galaxy Cat Pawsitive on topics ranging from shelter medicine, to behavioral training of cats, to open adoption policies.
Cat is mom to 4 of her own cats- Bob Ross, Betty Page, Dolly Parton, and Humphrey Bogart.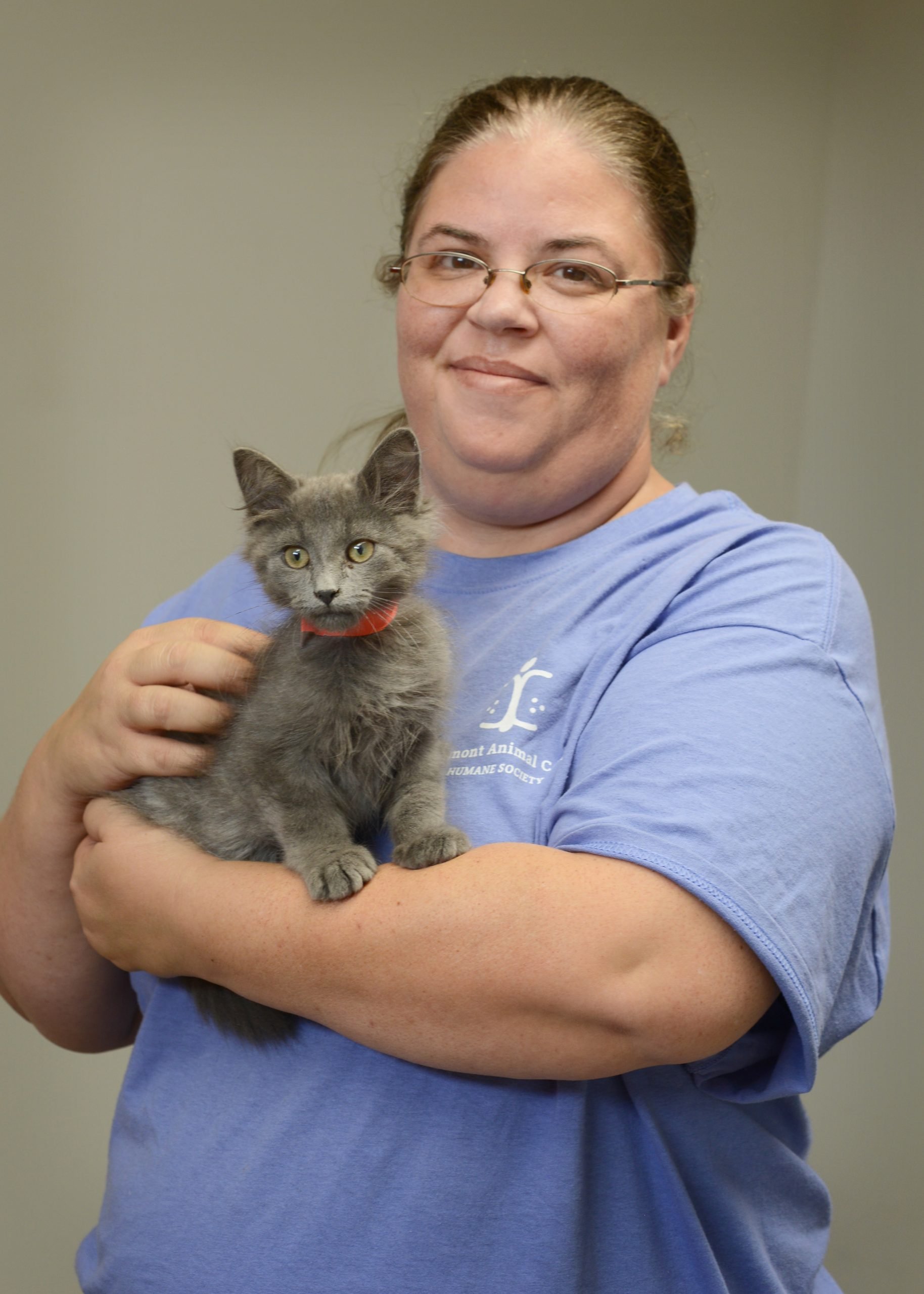 Lee Ann Luxenberger
Volunteer Services Manager
Lee Ann has been in volunteer management for nearly 20 years, the past three years in animal welfare. Lee Ann's career began in higher education directing community service programs for student engagement at Union College in Barbourville, KY. After 7 years, she returned home to Northern Kentucky to coordinate an AmeriCorps VISTA program through Kentucky Campus Compact, with her members building the capacity for college students across the Commonwealth to impact their communities through engagement and service-learning activities. Lee Ann then transitioned to volunteer management in the non-profit field and has worked at a variety of local non-profits including Freestore Foodbank, the Public Library of Cincinnati and Hamilton County, and the Friends of the Public Library of Cincinnati and Hamilton County.
Lee Ann's most recent role was as Volunteer Services Manager at SPCA Cincinnati where she oversaw the development and growth of the organization's volunteer program, resulting in a 73% increase in volunteer engagement with the organization over a three year period. She also managed the organization's Mobile Adoption Unit program and Humane Education program efforts, with hundreds of animals adopted at off-site events and thousands of children and adults educated in responsible pet guardianship and safety for and with animals. While at SPCA, she met and adopted her love -Izzy - a spoiled Shih Tzu mix who served as a Humane Education ambassador animal before stealing Lee Ann's heart.
Kelsey Maccombs
Lifesaving Manager
Jessica Grimes
Outcome Coordinator
Danitra Campbell
Community Support Coordinator
Interested in a Career with Us?
Seeking enthusiastic, animal lovers able to work in a fast paced animal shelter environment. Explore our paid and volunteer openings by clicking the button below.