Featuring Grinch, a Retriever, Labrador Dog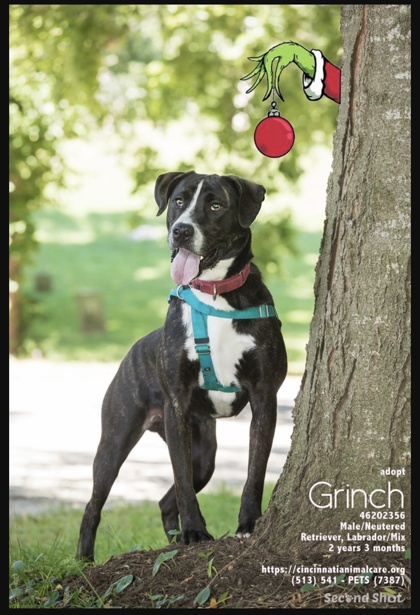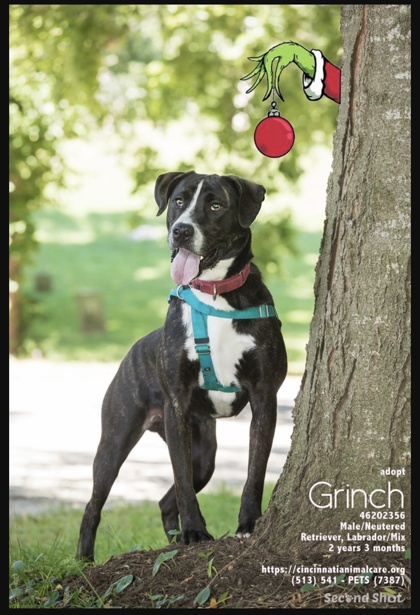 Looks Like:
Retriever, Labrador
Primary Coat Color:
Black
What We Think We Know About Grinch
We would like to reintroduce everyone to Grinch. Grinch had the amazing opportunity to participate in a board and train program as part of his rehabilitation with Sit Means Sit. When adopted, Grinch's new furever will have the opportunity to work one on one with the trainers at Sit Means Sit and continue the progress that Grinch has already made. Grinch has an amazing support system whose main objective is for Grinch to succeed in a furever home.

Grinchy has been working diligently on his training and is sure to wow anyone that he meets. This handsome young man has been mastering come, sit, off, place and break. Each day Grinchy is eager to please and very receptive to following those commands. Training has had a wonderful impact on his behavior as he has become much more graceful and controlled with his actions.

When not training, Grinchy is sure to entertain anyone that is willing to watch. He loves to run all around the yard releasing some of his energy and is always down for a game. Grinchy will curl up next to you on a cool fall evening to feel the breeze and receive some praise and love. Grinchy is also a little thief as he loves to grab whatever he can and run off with it. Grinchy has recently discovered that he is able to blow bubbles in the baby pool, however we are thinking he may not try that again as the sensation of water going up his nose made him do a little jig (oops!). Grinchy loves to chase any flying bug around the yard thinking it's a game to play and keep himself entertained.

In the home Grinchy has been exhibiting amazing behaviors. While we are advertising him as an only dog due to the fact that he does like to play rough and rowdy, he is still working diligently on proper dog behaviors with some extremely experienced humans and dogs. However, overcoming this hurdle shows how much Grinchy has grown over the last couple weeks.

To put things simply, Grinchy has been given a chance to be the dog he was always meant to be! Grinchy found himself in and out of homes throughout his puppy life and was never given any guidance on really how to appropriately interact with his environment. The training incorporated in Sit Means Sit offered that foundation that Grinchy has been desiring for so long. "Saving one dog will not change the world, but surely for that one dog, the world will be changed forever."

Grinch's perfect home would be that of a single dog so training can be the focus. He would love someone who takes him on walks around the neighborhood or the local park. Grinch does well around other dogs on a leash so he is not dog reactive. Grinch would do best in an adult home as young kids can definitely be a little much for him. Grinch would love a home with a fenced in yard to run out his zoomies and play catch. Most of all, Grinchy will need an adopter who would continue his training which includes the one on one training session at Sit Means Sit, upon adoption.

If you're ready to help Grinch continue working towards his best life, reach out to us to learn more about him!