Featuring Benjamin, a Terrier, American Pit Bull Dog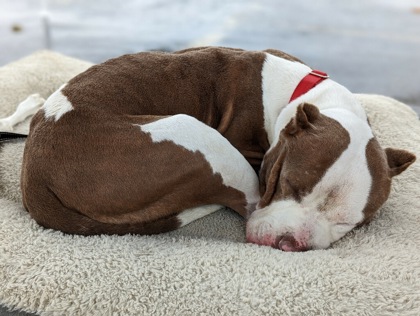 Looks Like:
Terrier, American Pit Bull
Primary Coat Color:
Brown
What We Think We Know About Benjamin
Meet Benjamin, he goes by ben, benjy, handsome hunk, mister handsome wandsome, and big ole baby boy to his friends.

He went on a day trip recently where his foster said "He is a very gentle guy who loves to look out the window in the back seat while riding in the car. I tried to get him to get in the front seat but he wasn't having it. He is so laid back that he let me take him to the self serve doggie wash for a bath. He didn't mind at all. He walks gently on a leash. I would say that he is about 6 years old and weighs about 60 lbs. As you can tell from his photographs he has one hazel colored eye and one blue eye that add to his charm. If you are looking for a well behaved, very loving dog with a face that "only a mother could love" Benjamin is your guy. He was deserted by the people that were supposed to protect him and care for him. He does not deserve to be in the noisy shelter experiencing more stress. He is a bit nervous around other dogs and would love to be the only pup in your home so he can get all the snuggles : )

If you are interested in Benjamin, or mister handsome wandsome, come on down to CARE to adopt him today!