Featuring Franky, a Mixed Breed, Large (over 44 Lbs Fully Grown) Dog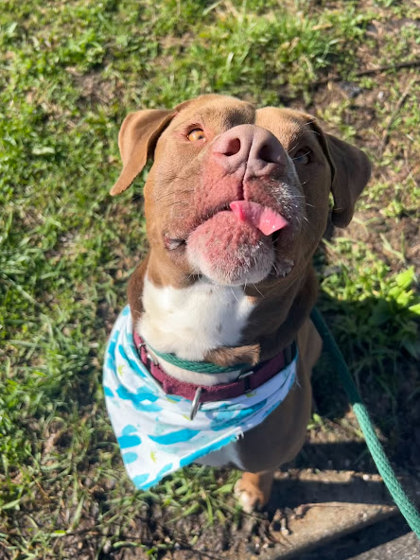 Looks Like:
Mixed Breed, Large (over 44 lbs fully grown)
What We Think We Know About Franky
Franky is a sweet and loving boy with a smile that can light up any room. This happy-go-lucky pup is always eager to please and loves nothing more than cuddling up with his favorite people. His warm and friendly nature makes him the perfect companion for anyone looking for a loyal and affectionate furry friend.

One of Franky's favorite things to do is give hugs and kisses to those he loves. He will happily lounge in your lap for as long as you let him. And if you ask him nicely, he'll even give you a few kisses to show his affection.

Franky is also a well-behaved pup. He's good in his crate and knows how to sit and lie down on command. And when he's being a good boy, he loves to be rewarded with his favorite treats. He is also good with other dogs and loves to play!

Overall, Franky is an amazing dog who would make a wonderful addition to any home. With his sweet smile and loving personality, he's sure to bring joy and happiness to everyone he meets. So if you're looking for a furry friend who will always be there to give you a hug and a kiss, look no further than Franky!

Our adoptable animals listed as location: foster home are available to meet by emailing foster@cincycare.org and our adoptable animals listed as location: shelter are available to meet any day 1-6 pm at 3949 Colerain Ave.!