Featuring Fidelity, a Mixed Breed, Large (over 44 Lbs Fully Grown) Dog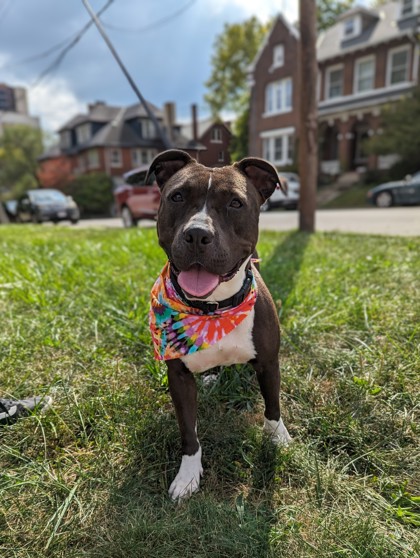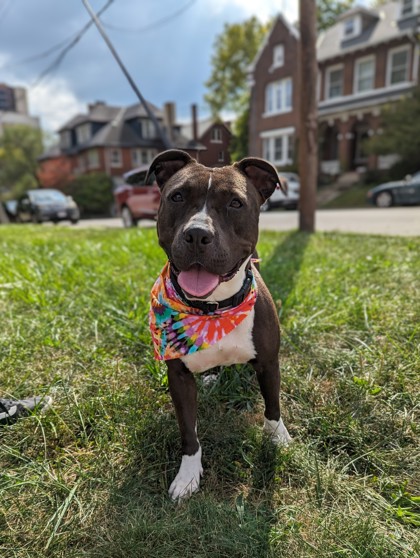 Looks Like:
Mixed Breed, Large (over 44 lbs fully grown)
Primary Coat Color:
Brown
Location:
3949 Colerain Avenue
What We Think We Know About Fidelity
Looking for a sweet and affectionate companion? Look no further than Fidelity! This female dog is an absolute babe, and she's ready to steal your heart.

Fidelity is a champ when it comes to car rides, but she's a little cautious around traffic during walks. She enjoys playful moments, but her true passion lies in cuddling. She is a big time fan of belly rubs. However, when it's playtime, she's quite the fetch expert!

While she may not love having her paws or muzzle touched, she kindly asks for a break with gentle kisses. Fidelity's food motivation makes her a treat-loving sweetheart, and she's a blank slate for learning tricks and commands. With or without training, Fidelity is incredibly polite and well-behaved. She's seemingly potty trained and doesn't have a taste for people food or mischief. Her enthusiasm is minimal when excited, and she's a true gem when it comes to sharing toys.

In public, she's a model of good behavior, and even during spa days, she's a trooper, tolerating baths and nail grinds with grace. Her love for water shines when she splashes and lounges in the kiddie pool.

If you're ready to welcome a cuddly and well-mannered companion into your life, Fidelity is the one for you!