Featuring Mayday, a Mixed Breed, Medium (up To 44 Lbs Fully Grown) Dog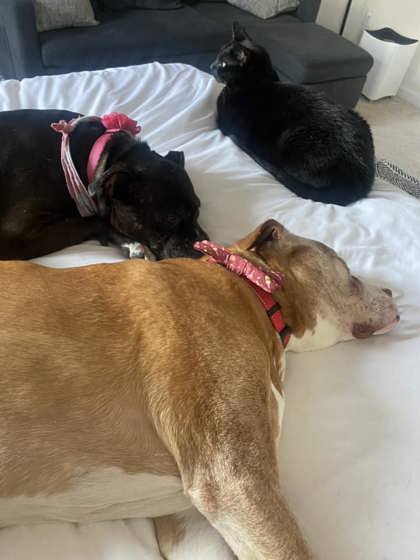 Looks Like:
Mixed Breed, Medium (up to 44 lbs fully grown)
Primary Coat Color:
Black
Estimated Age:
12 Year(s)
What We Think We Know About Mayday
Meet Mayday. She might just be the sweetest little old lady you'll ever meet! Mayday loves to crawl into laps for cuddles and kisses, and gets along great with kids, cats, and other dogs. She doesn't let her rough past or her age keep her from loving life. One of her favorite things to do is roll around in the grass, and she loves meal time. She has the cutest little tippy-tappies when excited for a treat or dinner. Guaranteed to make you smile! Mayday doesn't really need toys, she's content with a comfy bed and a cozy lap, where she can soak up all the love. And her foster says they haven't heard her make a peep!

Mayday has nothing but love to give and deserves nothing less in return. She's just looking for the perfect family to spend her golden years with.

Our adoptable animals listed as location: shelter are available to meet any day 1-6 pm at 3949 Colerain Avenue or 4210 Dane Avenue. Our adoptable animals listed as location: foster home are available to meet by emailing foster@cincycare.org.